---
Centro Español de Washington,D.C.
PO Box 9485, Washington, DC 20016
---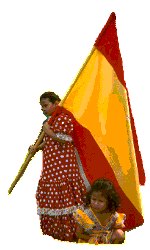 The "Centro Español de Washington, D.C.", founded in 1986 by Spanish citizens in the Washington, DC metropolitan area, is a non profit organization dedicated to the preservation and education of the culture and traditions of Spain.
Our activities include conferences, art exhibitions, essays competition, concerts, dramatic performances, and fiestas characteristics of the different regions of Spain. Among our most popular events are the Three Wise Men (Epiphany) celebration in January -complete with roscón de Reyes,- the Evening of Carols in late December –with chocolate and churros,- and, above all, the multicultural Feria de Sevilla, our "flagship event" which celebrates its sixteenth anniversary this year. The Feria will be generally celebrated the third Sunday of May at Strathmore in North Bethesda, and will feature a stage with flamenco performances from various local academies and a variety of regional "casetas" (from Andalusia, Castile, Galicia, Cántabra, Levante, and South America) and booths exhibiting Spanish food and crafts. The entrance is free.
The Centro Español also contributes with donations to a number of charitable organizations. These donations are generally taken from the Center's budget. Occasionally, we also organize fund raisers for the same objective which are open to the public.
A wealth of additional information regarding the Centro can be found in the other sections of this website, including the Application for Membership. Persons interested in joining, regardless of nationality, may apply to become a member of the Centro Español de Washington by calling 301 299 6493.
Please note the new location of the Feria at Strathmore, 5301 Tuckerman Lane (corner of Rockville Pike) in North Bethesda, MD20852. Accessible at the Grosvenor/Strathmore metro on the Red Line. Free parking at the Metro garage.
---
Spanish version
Return to our Home Page
Centro Español de Washington, D.C. is a non-profit organization.
El Centro Español de Washington, D.C. es una organización no lucrativa.